Story of change by Venantie Mukamana
My name is Venantie. My independent life began when I moved to Kigali for work as a young adult. I couldn't work on my family's farm due to stomach issues, so I decided to get a job in the city. After a short time, though, I got pregnant, and when I came back to my hometown, my family chased me away.
I then moved to this village, Kabgayi. I was still looking for work, but no one would hire me. I think there are two reasons behind this – 1) I was physically weak from lack of food and the stress of trying to provide for my child as a single mother, 2) I was quiet and closed off. I felt so isolated, I couldn't talk – I was just silent all the time. I had no sense of connection to anyone in the village, and I couldn't love anyone. I felt like dying would be better than living.
When I first joined sociotherapy, I still didn't talk. It took a long time to open up to the group, but once I felt comfortable, I started talking again. This also helped me find work and alleviated some of my stress.
Though I now have two children living with me and sometimes it's difficult to come be with the group, or even find work, I'm happy to be connected to others and be able to share my life.
The Mvura Nkuvure sociotherapy sessions have now finished and I'm happy that our graduate group has continued meeting as a handicraft co-operative. I was also overjoyed to be voted secretary of the co-operative, because it means the group trusts me.
During the coronavirus pandemic, it's been difficult to find work and get food, but I have a group to support me. I feel kubohoka – relieved of isolation.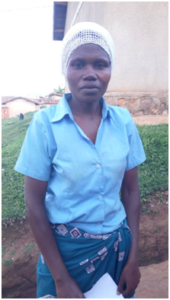 A story written by Anna Gwin