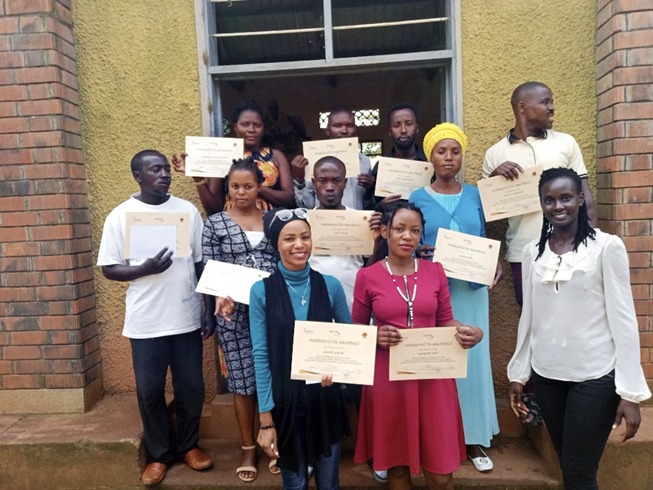 By Felibien Hirwa Tuzayisenga
In December 2021, certificates were awarded to the 12 sociotherapists in Kyangwali Refugee Camp sociotherapists in Ugdanda. The certificates were given to recognize their efforts during the 30-month implementation of the Community Based Sociotherapy Adapted for Refugees (COSTAR) project and their continuous commitment to successfully close the project.
COSTAR project was funded by the Economic and Social Research Council (ESRC) and the Arts and Humanities Research Council (AHRC) and, in Uganda, jointly implemented by the University of Liverpool, Makerere University, Humanitarian Initiative Just Relief Aid (HIJRA) and Community Based Sociotherapy (CBS Rwanda).
The project aimed to culturally and linguistically adapting the CBS approach for Congolese refugees and evaluating its efficacy and cost-effectiveness in addressing the elevated levels of mental health difficulties experienced by populations that have been subject to conflict and displacement.
According to the project coordinator, Emmanuel Sarabwe, COSTAR was implemented in a bid to measure how Community-based Sociotherapy (CBS) could contribute to the reduction of depressive symptomatology among refugees. In his remarks during the certificates awarding ceremony, Sarabwe highlighted that it is impressive to see how dedicated the sociotherapists were to understand the approach fully and make it their own. "By growth I mean that there are sociotherapists who have progressively become very strong throughout the journey and were able to facilitate sociotherapy group sessions smoothly. They have been able to psychologically heal themselves and simultaneously facilitated the healing process of CBS participants."
Sarabwe indicated that, "the main challenges encountered during the COSTAR implementation, were the COVID-19 pandemic; and some participants didn't want to attend sessions without material support. In addition to that, the scientifically rigorous research process, sometimes conflicted with the nature of CBS approach, which requires more flexibility and adaptation to the local realities."
He added that though the project encountered these challenges, there is a hope that considering what CBS participants have achieved, the experience in the sociotherapy groups will have a continuous influence on their lives.  Participants who attended the 15 weekly sociotherapy sessions, improved their social relations regardless of their tribes, gender, religions, and level of education. They indicated that they had started to become like a family. There are participants who had suicide ideations before taking part in the sociotherapy groups, but now no longer experience these thoughts. There are other participants who solved marital and family conflicts and there were cases of spouses reuniting after haven been separated for a long time. Participants who were in conflicts in their neighborhood reunited and came to support one another. Overall participants indicated that being part of the sociotherapy group, enabled them to reconnect with people, whom they had been in conflict with, and this contributed to their mental well-being.