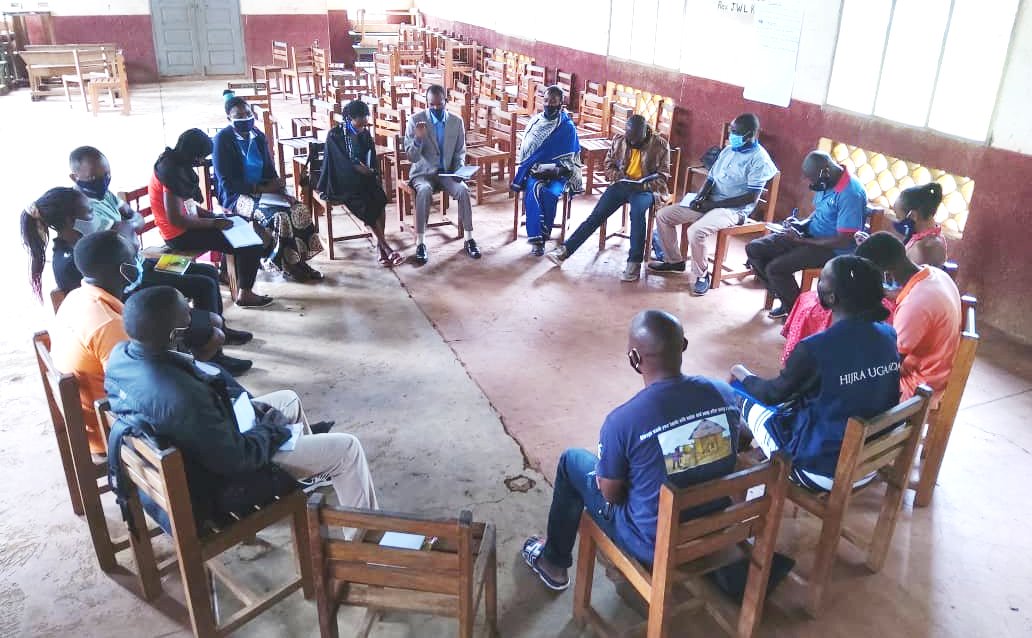 By Felibien Hirwa Tuzayisenga
On the evening of November 9th 2020, the CBS Rwanda – COSTAR team returned to Rwanda from Kyangwali Refugee Settlement in Uganda. The COSTAR (Community Based Sociotherapy Adapted for Refugees) project aims to address the elevated levels of mental health difficulties experienced by populations that have been subject to conflict and displacement. The project has been initiated by Liverpool University as a research project and is being implemented in partnership with the University of Rwanda, Makarere University, Humanitarian Initiative Just Relief Aid (HIJRA) and UNHCR. The CBS Project Coordinator, Emmanuel Sarabwe, and community-based sociotherapy trainers, Nicolas Habarugira and Theophile Sewimfura, spent three weeks in Uganda conducting Mvura Nkuvure follow-up training for sociotherapists seeking to promote psychosocial healing in their community. This training in the refugee settlement was attended by the 12 Congolese refugees that facilitate sociotherapy groups in their respective communities.
CBS Rwanda started the implementation of Mvura Nkuvure groups in the refugee camps of Kyangwali (Uganda) and Gihembe (Rwanda) in 2019. During the initial visit to the Kyangwali settlement in July 2019, CBS delivered basic sociotherapy training, finishing with the initiation of six Mvura Nkuvure sociotherapy groups.
Emmanuel Sarabwe shared that CBS Rwanda has especially appreciated the resilience and courage of group members as they are meeting and supporting each other despite the COVID-19 setbacks. The pandemic caused situational abnormalities in communities, and since the outbreak, it was observed by sociotherapists that the number of cases of family conflicts, home violence, and alcohol abuse has increased. The sociotherapists-in-training reported that it is currently difficult for the refugees to socialize due to COVID-19 prevention measures, and this affects their psychosocial wellbeing. In addition to this, the training had to be organized differently, Sarabwe shared that since the COVID-19 test and the quarantine were planned to take 48 hours upon arrival, they were obliged to continue with the training during the weekend days. Though attendees commuted two to three miles per day from their homes to the training venue, for ten consecutive days, none of them missed a session and they all concluded the training. Despite the changes in the schedule due to COVID-19 measures, the atmosphere in the team was very good, and thanks to the flexibility and courage of the participants, the training finished successfully.
Currently, the Mvura Nkuvure groups continue to meet in Kyangwali Refugee Settlement while following the COVID-19 prevention measures. They have reached week 13 of the 15-week cycle and intent to finish the remaining sessions before the end of this year. Sociotherapists testified that the group participants are happy that the sessions resumed, as it is an opportunity for them to reconnect again, share difficulties that they encounter and help each other where possible.