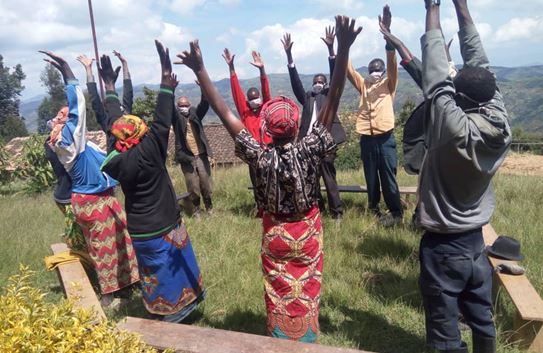 by Anna Gwin
Sociotherapy (Mvura Nkuvure) sessions last for 15 weeks – so how do participants stay connected when sessions finish?
The answer for 57% of sociotherapy groups lies in financial co-operatives, which accomplish two things at the same time: staying connected and creating economic support for the group and their families.
One group in Kabgayi, which graduated in July 2019, has started a saving/borrowing co-operative. Each of the 11 members is expected to contribute 200 Rwandan francs per week. Despite COVID-19 setbacks, they have already been able to save a lot of money. For now, the group is small enough that each member saves their contribution at home, but soon they plan to open a bank account where all the funds will be stored.
The group hopes to eventually make handicrafts that they can sell at the market. They've run into challenges with finding training to make more goods, because they had a misunderstanding about payment with the earlier trainer, who would like a salary for more lessons. However, now that the trainer has joined a sociotherapy group with CBS Rwanda, the trainer may also be more willing to join the cooperative in the future.
At the moment, the cooperative lends to members who need money, and borrowers don't need to explain why they are borrowing.  Trust built through Mvura Nkuvure makes the lending to feel secure. Cooperative members recognize that "cooperative development will help personal development." Ultimately, the purpose of the cooperative is about more than economic support. The main reason for its creation was so the group could stay together and continue to share their thoughts and lives.