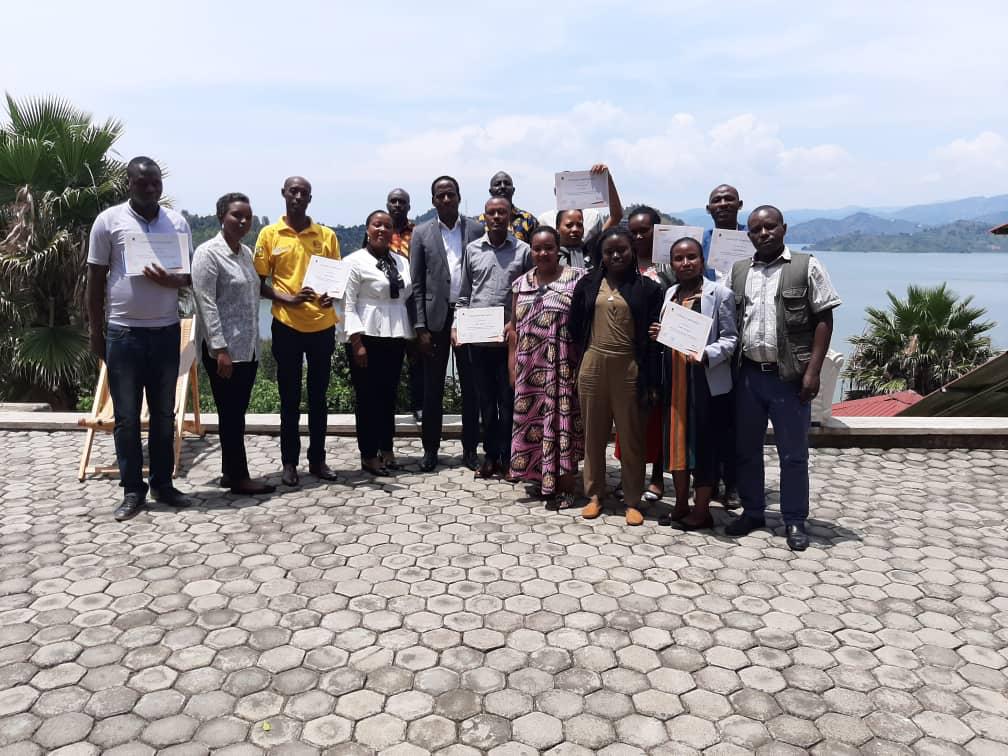 By Felibien Hirwa Tuzayisenga
From 12th to 16th October 2020 Community Based Sociotherapy (CBS Rwanda) organized a five-day training for district- and sector-level leaders, on the reintegration of former prisoners back into the community.
Goals of the training were to increase knowledge and skills pertaining to the prisoner reintegration process, and to promote ownership of the reintegration process among local leaders and other staff members at district and sector level who will be involved in these activities, which include: coordinators of NURC and Itorero activities (Umutahira) and Civil Registration Officers (CRO) at sector level.
The training was conducted by experts in conflict management and peace building, namely Dr. Aggée Mugabe Shyaka – Senior lecturer at the University of Rwanda, Center for Conflict Management – and Lucie Nzaramba, sociotherapy trainer and CBS Rwanda's Executive Director.
Nzaramba said the training has been a way of backing local leaders' efforts to maintain and promote unity and reconciliation in communities, by equipping them to effectively contribute to the reintegration process of ex-prisoners. She commended the role of local leaders in the process, saying that the training was meant to help leaders become more aware of their roles in reintegration, as well as key issues and hindrances to successful reintegration of prisoners at individual, family and community levels.
Participant highlight: Jean Pierre Gakwaya
One participant, Jean Pierre Gakwaya, is the coordinator of unity and reconciliation activities in Gasabo district. His takeaways from the training included principles for identifying community needs, and knowledge of the different phases of prisoner reintegration, as well as the policy response, which will guide this process in Gasabo district.
This reintegration training is timely, because it is delivered as an increasing number of genocide prisoners are expected to be released from prison and return to the communities where they committed genocide. According to the NURC's report in April 2019, more than 27,600 convicts of the 1994 genocide committed against Tusti are currently serving their sentence and will be released in the future.
Local leaders will play a pivotal role in the process of reintegrating these prisoners into community; trainees affirm their expectation that reintegration and need-identification principles will support the demanding task.
Trainees were from Gasabo, Karongi, and Rubavu districts, and there are plans for the same training to be delivered to other groups from areas where Mvura Nkuvure (community based sociotherapy)is being implemented. These districts – Gicumbi, Nyanza, Muhanga and Nyamagabe – are expected to receive the training in November 2020 in partnership with E.A.R. Byumba Diocese and Prison Fellowship Rwanda.
"It is very important to involve local leaders and have a kind of ownership over the process. They need to have relevant information to ensure that the process is implemented effectively."
Lucie Nzaramba